Local Moving Tips to Help Make Your In-State Move Easier
Don't underestimate the time and effort local moving requires.
Often people assume a local move will be a breeze, with little to no planning needed. Only concerned about the grueling task of packing and unpacking, they don't think about the logistics of the move in advance. That's a mistake, one that can lead to a stressful, hectic moving experience. Advanced planning and good organization are necessary for any successful move, even when moving a couple of miles away.
Decide between a do-it-yourself move and hiring a local mover.
A do-it-yourself move will be cheaper, but it will take much more of your time and require someone (you) to do a lot more work. You can hire a local moving company to handle some of the more difficult tasks such as moving furniture and appliances, or you could save yourself the all of the time and effort a move requires by hiring a full service moving company. A full service mover will take care of every detail for you, including packing and unpacking as well as planning and move management.
Use a local moving checklist for planning and organization.
Once you've made the decision to move, your first step should be to create a moving checklist. Building the checklist will help you plan for your move in advance; using the checklist will keep you organized and ensure that each task is taken care of. You can find various moving checklists online, including a printable checklist here, to use as a guide, but you may want to customize the list for your specific move. Reading through the additional moving aids provided at Chipman Relocation & Logistics will also help. If you plan to hire a full service moving company such as Chipman, one that will plan and manage your residential move for you, your checklist can be much shorter.
Know where everything will go in advance.
If possible, spend some time in your new home before moving day. Take measurements. Plan where you will place furniture in each room. You could create a simple sketch of the home interior and give each room a number, then number your boxes and furniture so whoever is helping you move will know where to place each one. You could also use an online room planning tool such as the RoomStyler 3D home planner to help you decide how to arrange the furniture and where to place everything, from each piece of living room furniture to your kitchen utensils and children's books.
Become familiar with the area before moving.
If you are moving more than a few miles from your current location, you may need to find a new grocery store, pharmacy, bank, etc. When you have time available before the move, find each one. Drive around and become familiar with the area. Doing so will help you feel more comfortable and at home in the new location before moving in. It really makes a difference!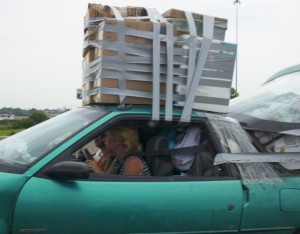 Movers & Moving Companies
Weed down your stuff
Most people are packrats to one degree or another and if you've lived in the same place for several years you probably have closets and junk drawers filled with stuff you really don't need. Start making stacks of what to throw out or donate to charities. Organizations like Goodwill and AmVets will accept a variety of clothing and household goods.
Collect supplies
If you're doing your own packing, you'll need lots of boxes. The best boxes are the ones that reams of copier paper come in because they're sturdy, have lids and are easily stackable. If you work in an office, find out who handles supplies for the copy machine and have them save boxes for you.
Identify high-priority items
Your most prized possessions, like family photos, birth certificates, passports, etc. Plan on packing these yourself and transporting them in your car so they are never out of your control. Ordinary household items can be replaced if lost or damaged. If it's priceless to you, then you should carry it.
Change your utilities and services
Contact service providers for utilities such as water, gas, electric, telephone, cable and internet services to inform them of the impending move. You can let these companies know when you plan to be out of your home and into your new home so that your services can be switched over.
Postal Change of Address
A change of address kit is available through your local post office branch office or online. These forms prevent the possibility of others gaining access to your mail without your knowledge.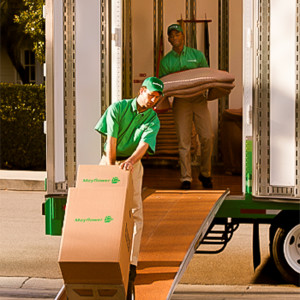 Tips for Hiring a Professional Mover
Ask Friends and Family For Referrals
When it comes to finding the right mover, start by asking people you trust for recommendations. Your Realtor, co-workers and friends might be able to suggest a local moving company to use, and they may also have ideas about moving companies you should avoid
Get In-Person, Written Estimates
Having an in-person written estimate ensures that the quote you receive from each moving company is as accurate as possible, while giving you a chance to learn more about the services offered by the mover
Be Up-Front With Your Estimator
Be sure to show your estimator all the boxes, furniture, clothes and belongings you'd like the moving company to transport for you. While a professional mover can't force you to pay more on your moving day to move items that were excluded from your estimate, the movers can refuse to actually move anything you didn't disclose as part of your written quote.
Inquire About Added Fees
Nobody likes surprises on their moving day, so be sure to ask about any extra fees, such as fuel surcharges, extra stops charges and equipment fees that could be added to your final bill.
Consider Using Packing Services
If you're like most people, you dread the thoughts of packing up all your belongings. Look for a local moving company that offers crating and packing services—this option can really take the stress out of your next move.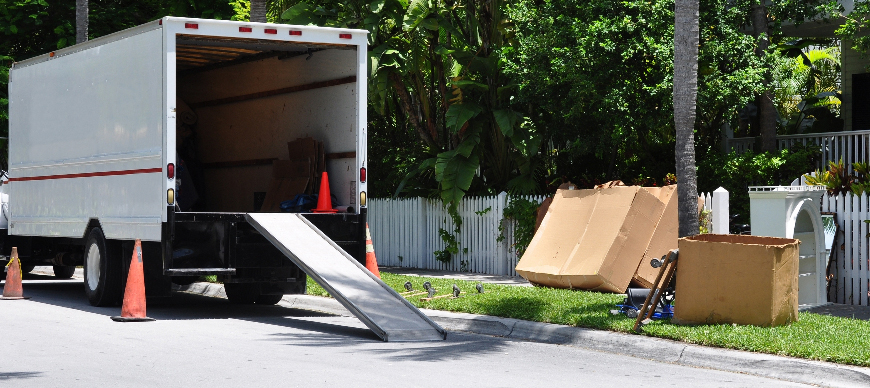 FINDING A MOVER, HOW TO FIND A REPUTABLE MOVING COMPANY
Plan an Off-Peak Season Move. (when possible)
Call movers as soon as possible. Moving companies are extremely busy during the summer months. June to September is the busy season for movers. Movers report that the last week of the month in May, June, July and August are the busiest weeks of the year. Those dates can be booked 4 to 6 weeks in advance. If you can avoid moving during those months, you will likely receive better service. Movers are known to hire temporary help to assist during the busy months so if you do have to move during the summer make sure everything is packed well and secure. If you must move during the busy season, move mid-month, mid-week, and avoid the end of the month.
Start collecting your moving boxes and packaging as early as possible.
Don't wait until the last minute to start collecting any packaging you can while you are searching for a mover. Start collecting boxes and any packing whether you try to find free boxes or decide to order your boxes do it as early as possible and try to pack things you will not need before your move. Remember that time will fly when you are prepairing for a move so use your time wisely. Professional packers are costly! If you are planning to use the mover or a packing service to help you pack beware Packing services add up quickly. Movers charge top dollar for packing materials and boxes.
Searching for a Reputable Moving Company
Use the internet, it's a great resource for information. We have seen some people blame the internet for scams and dishonest movers but in most cases it still comes down to old fashioned homework to find a good honest mover. Almost every moving company has helpful links and information. Take notes about packing and things you might find useful later. Bookmark any sites you want to return to later. You can also use the many sites by the Department of Transportation, and the Federal Motor Carrier Safety Administration, all can be found on our Moving Links One suggestion Never use a mover who's main source of advertising are signs posted on trees and telephone poles. Ask for recommendations from neighbors, friends, and relatives regarding any moving experiences, good or bad? Perhaps they can recommend a mover for you to check out.
Most van lines don't have the authority to do local moves
If you want to use one of the national familiar firms, you must understand, most of these companies use 'agents' in most areas that are not really the company you may think you are calling. This is pretty normal, it's how the industry operates. The major van line companies work with smaller local movers who sell the van lines services, and do local work for the van lines including contracting any packing, local pickups and deliveries, etc. Many times they do limited hauling as well. Remember to check out both the van lines and the agent as it is common for a major van line to have more than one agent in a given location. Ask questions now so you can check them out properly. If they do not like answering questions do you really want to use them?
Some of the Best Moving Resources are on the Internet
It's homework time. Use the internet and investigate all the movers on your list and try to narrow it down to no more than 3 movers. Do a Google or Bing search on the names and see what you find. Search for any complaints or warnings about the movers and go 20 to 50 pages deep, if someone complained on a moving forum somewhere it most likely will not be in the top 20 or the top 100 it costs money now to get on those pages. Look for Moving Forums? or Moving Blogs? Sure people love to share their good and bad experiences so use that to your advantage. Check YouTube and other video review sites like Vimeo or Shop Wiki. Be creative in your search. Search for such things as "That was the worst mover I ever worked for" or I cant believe the get customers to move. If you find employees complaining you may want to depend on them to move all your valuables. Also use "Quotes" on your searches to narrow down the scope.
Things Not to Do When Hiring Movers to Move Your Home
Not Getting Quotes From at Least 3 Movers
No matter where you're moving from or to, you should always have at least three movers on your list of potential hires. Getting quotes from five moving companies, along with estimates, is even better to compare costs and look at other people's experiences with that company. Doing your research and background checks on each company will ensure you hire a reputable and trustworthy company and avoid a potentially nightmarish move.
Not Having Movers Visit Your Home Before Hiring
When asking for moving estimates from potential movers, you should always have a mover visit your home, to review everything you're moving to provide a more accurate estimate. It's also a way to ensure that the mover sees everything you're moving so that at the end of the move, the inventory they quoted on will match what was moved. I also recommend creating a household inventory list before the movers quote an in-home estimate. Not only will an inventory provide the mover with everything that you'll be moving, but will also remind you to ask the movers about items that require special handling.
Choosing a Mover Based Only on Price
The least expensive mover might be the best bet. However, you should always make sure you have thoroughly researched the company.
Not Asking the Right Questions
iring movers isn't easy. There are so many details you need to remember to ensure that the movers are reliable and that your stuff will be in good hands. A good, reliable mover should provide you with all the information you need and anticipate questions before you ask. After all, they do this all the time and are the experts when it comes to moving house. But because your move is unique, there may be information the mover doesn't provide that you need to know. So make sure to review this list of questions to ask.
Not Knowing If and When You Might Be Charged Extra Fees
You should always ask movers about extra costs that might apply to your move. These may include costs such as charges for moving things up and down stairs, not having a close parking space for the moving truck, and packing fees for items not properly packed. To save yourself extra fees, find out more about moving charges for which you might be responsible.