Your Guide to the Different Types of Wood Flooring
If you're thinking of putting in wood floors, you can't go wrong. All types of hardwood floors have unmatched natural beauty and go with any decor — modern, traditional, country, you name it. Hardwood flooring goes in any room, although kitchens and basements warrant special considerations.
Unfinished or Finished?
Unfinished hardwood flooring is a good option if you want a custom stain applied before the final finish, or if you want to match the color of existing flooring. After hardwood flooring installation and staining, the flooring is given several coats of protective finish. If you're thinking of adding hardwood flooring in your kitchen, unfinished flooring is a good choice because the finish will penetrate and seal the seams between boards, helping to prevent water from seeping between boards.
Prefinished hardwood flooring comes from the factory already sanded and sealed, meaning the whole installation job goes quickly. There are no odors and VOCs from finishing on-site, and the floor is ready to walk on immediately.
Solid or Engineered?
Solid hardwood flooring is all wood and comes 5/8 to 3/4 inches thick. Because it's solid wood, it can be sanded and refinished many times. However, it's susceptible to changes in humidity, and isn't recommended for below-grade basements.
Engineered hardwood flooring is a veneer of real wood glued to several layers of wood underneath, like plywood. This gives engineered wood excellent stability over time and makes it a good choice for any area of your home, including below-grade basements. Depending on the thickness of the hardwood veneer, engineered hardwood flooring can only be sanded and refinished once or twice during its lifetime.
What Species Is Best?
The best hardwood floors are made with wood species that are readily available and — you guessed it — very hard. Oak flooring, maple flooring and cherry flooring are all good choices. Other species include bamboo (which is actually a grass), walnut, ash and mahogany. You'll pay a premium price for more exotic species, such as teak, jarrah and mesquite. Check to make sure the hardwood flooring you choose comes from sustainably harvested forests.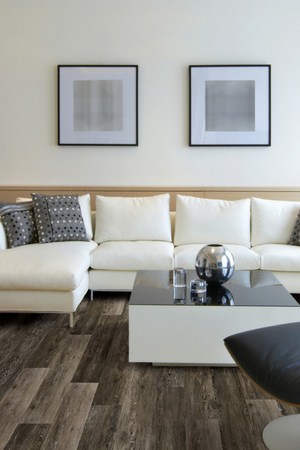 5 low cost alternatives to hardwood flooring
There are many reasons that hardwood may not work for you. It could simply be that you need a less expensive alternative, or a product that you can install yourself so you can save money on installation. Or, you may need a product that is waterproof or resistant to moisture. Or, you may be installing in a location where solid hardwood isn't approved for (e.g. below grade), or there may not be enough height for solid hardwood. Or, you may have a concrete sub-floor and just want a product that can go directly on top of the concrete.
So, below are 5 alternative flooring options you can use. And, best of all, almost all of them can look like hardwood, and most are less expensive.
1. Luxury vinyl plank flooring (or engineered vinyl planks)
This is one of the most innovative products this decade, and I absolutely love it as it's looks so good and is so versatile. Luxury vinyl planks (sometimes called Engineered vinyl planks or luxury vinyl) are planks that look and feel like real hardwood, but they are WATERPROOF! Yes, waterproof! So, they are great for areas that may get moisture or a bit wet (e.g. kitchens, basements, powder rooms).
US Floors invented the category and revolutionized flooring forever with their break-though product called Coretec Plus. IIt's an amazing product that looks like real wood and clicks together like a laminate, so it's easy to install (and easy for do-it-yourselfers). Unlike laminate (which absorbs moisture like a sponge), Coretec Plus holds up to water and moisture.
2. Wood look tiles
hardwood floor alternatives – tiles that look like hardwood flooringThese have been around for a while and are a great option if you want a wood look, but also want soemthing waterproof. They've become super popular, so they are now around in a variety of shades, textures and styles. Some even look distressed or handscraped.
They are a favorite for many in kitchens, entryways, mudrooms, bathrooms and basements. They are especially popular in warm climates as they keep your space cooler in the hotter months. In cooler climates, they can be cold on your feet, so these tiles are usually installed in smaller areas or over radiant heat.
If you have a concrete sub-floor that's even, tiles are relatively easy to install as they can go directly on top of concrete. And, if you're interested in installing radiant heat, tiles are the best flooring surface for this as they conduct the heat best (and therefore are most efficient).
3. Laminate flooring
Laminate and pergo flooring installation westchester countyLaminate floors are less expensive than hardwood, so if you're really going for "cheap," this is the way to go. Laminate flooring is clickable (so it's a floating floor) and can be installed easily on top of tile or concrete flooring (as long as you add an underlayment).
Please note that laminates are NOT waterproof. In fact, they rapidly absorb moisture – like a sponge or cardboard. Laminates range in quality and prices. The more expensive ones look better and are more durable, but they do cost more…and at that point, you are probably better upgrade to a product like Coretec Plus which is waterproof…or real hardwood flooring.
4. Bamboo flooring
alternative options for hardwood flooring – bamboo floorsBamboo flooring is an alternative to hardwood flooring. It's often misclassified as hardwood, but it's important to know that it's actually a grass. It's certainly less expensive than solid hardwood, and it's engineered and glued together. Because of this, it acts like an engineered wood and can be glued directly to concrete floors, making it very versatile.
Bamboo is substantially less durable than hardwood floors, and there is a LOT of misleading information about this product online (and in stores). It's softer than oak flooring (even though some claim it's harder…the tests are very misleading and so are the marketing claims…soon I will need to write a whole post about this)
5. Cork flooring
alternative flooring options – cork flooring -Wicander's cork in moccachinoCork flooring is another great option. It feels amazing on your feet and it has a bit of shock absorption, so it's easier to stand longer (an important feature for kitchens). And, cork has some insulation as well as sound absorption properties.
Conclusion:
Less expensive alternatives to hardwood flooring. #cheaper #hardwood #alternativesSo those are my top 5 alternative flooring options if hardwood floors aren't right for you. As you can see, no flooring is perfect. They all have trade-offs (even hardwood does). The key is to find the flooring that's best for you, your space, your needs and your budget.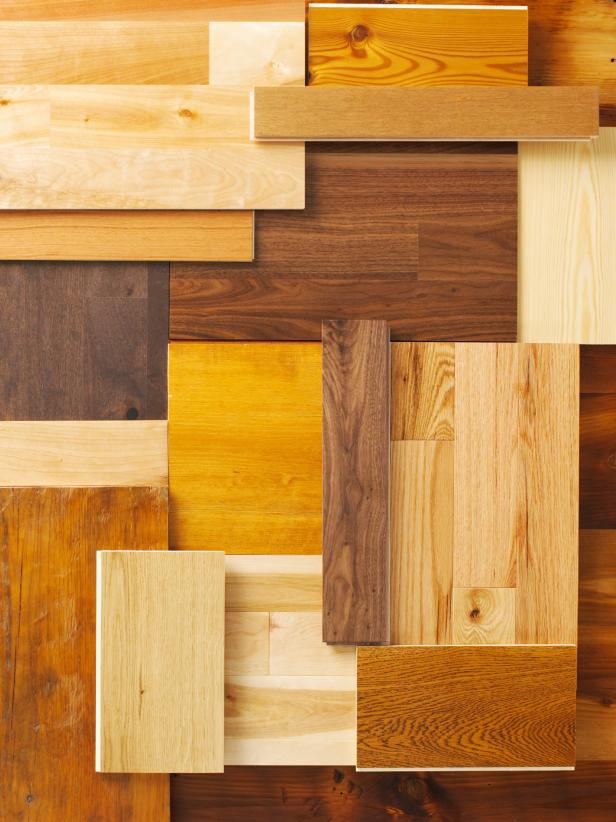 Solid Wood vs Engineered Wood Comparison Guide
Solid wood flooring comes in long planks, usually made of a hardwood species. It is milled with tongues and grooves on opposite edges, so that the boards interlock when installed. It is always nailed down to the subfloor, a process that requires some skill. Because it is solid wood, this flooring can be sanded down and refinished several times over its life.
Engineered wood flooring looks very much like solid hardwood, but its construction features a relatively thin layer of hardwood bonded over a premium-quality plywood layer that gives the flooring very good stability. A good-quality engineered wood floor typically lasts 25 to 30 years, and it is both less expensive and easier for DIYers to install.
Appearance
Solid hardwood and engineered hardwood flooring have a very similar appearance, although engineered hardwood planks may be wider. Some prefinished engineered hardwood flooring has slightly beveled edges, which creates slight grooves between boards while solid hardwood flooring generally has very tight seams between boards. Solid hardwood comes in a wider range of colors and wood species, though this gap is narrowing as engineered hardwood becomes more and more popular.
Water and Heat Resistance
Engineered hardwood has slightly better performance in humid locations since its plywood construction makes it more stable and less susceptible to warping. For example, some engineered hardwood is approved for installation against concrete slabs, an installation that is frowned upon with solid hardwood. Both products have good resistance to heat.
Care and Cleaning
Both types of flooring are relatively easy to care for, requiring simple sweeping and cleaning with an approved wood cleaner. Avoid using water or steam to clean any wood floor.
Durability and Maintenance
Solid hardwood is slightly superior here, since it can be sanded down and refinished several times over its lifespan. Engineered hardwood can be refinished once, or at most twice, before the surface hardwood layer is exhausted. Prefinished forms of both floors are the most durable, since they have a hard, factory-applied finish that holds up very well. All wood floors can benefit from a renewal of the surface varnish coat every few years.
Installation
Solid hardwood flooring is installed with a tongue-and-groove system, in which each board is blind-nailed to the subfloor down through tongues at the edges of the boards. Some engineered wood flooring is also installed this way, but there are also forms with "click-lock" edges that can be installed as a "floating floor." Engineered woodf looring can also be glued down against a concrete subfloor. Most DIYers find engineered wood flooring to be the easier to install.
Hardwood Flooring Types
Engineered Hardwood
Compared to solid planks, engineered hardwood offers a similar look that's easier on your budget. These boards have a base (often plywood), plus a thin veneer of something like oak, maple or hickory on top.
You can usually sand and refinish engineered hardwood just like solid boards, but not as many times. The composition of the planks make it possible to install it as a floating floor. This means you can put it in places solid hardwood can't go, like the basement.
Distressed hardwood flooring is made from planks that have been artfully damaged prior to installation. Manufacturers can alter any wood species and use different methods, such as:
industrial presses that roll imperfections into the wood
custom artisans who beat the surface with burlap bags full of nuts and bolts
Either way, you'll get a new floor with the character of one that's been around for centuries.
Hand scraped hardwood flooring is made of raw materials worked by hand into pieces. It adds character and tradition to any room, and usually come in wider planks than milled boards. Homeowners like the irregular scrapes, planes and textures.
For a higher initial cost, pre-finished wood flooring takes away some of the extra work during installation. Manufacturers sand and seal these planks in the factory. This means your installer doesn't have to do it after they place the boards, cutting down on the labor.
This approach isn't appropriate for every situation, however. If you are trying to match existing wood floors, you'll want to choose an unfinished product.
Engineered Hardwood Pros
1. Installs over concrete
If you have hardwood floors throughout your home and want to continue the theme on a lower level, hybrid flooring combines the best of both worlds. It's stylish yet practical.
Due to its multi-layer construction, engineered wood flooring stands up to moisture and resists humidity much better than solid hardwood. Therefore, you can glue or float this product over a concrete slab. If you choose this route, be sure to waterproof the subfloor and fix any cracks before installation.
Remember to install a moisture meter to monitor humidity levels. Even though engineered boards have a higher tolerance to temperature fluctuations, they still contain natural wood. This means that engineered wood floors can buckle or warp in extreme conditions.
2. Multiple installation methods
Want to install your new flooring without the help of a pro? You'll have an easier time using an engineered product. It's the perfect DIY for experienced weekend warriors.
Unlike solid hardwood, you can float, stable or glue engineered wood. You can even find planks with locking mechanisms.
Besides variety, you'll also have a bit more wiggle room for minor mistakes. And because engineered wood isn't as sensitive to moisture, your expansion gaps don't have to be exact.
3. Less sensitive to moisture and humidity
Engineered floors are dimensionally stable. Unlike solid hardwood, manufacturers assemble these products in layers. The top layer is a wood veneer, while the core layers are composed of plywood, particle board or fiberglass.
These layers are then stacked in a criss-cross pattern and glued together in opposing directions. Then, when the floor is exposed to high humidity, each layer counteracts the other's natural tendency to swell or shrink.
4. Improves resale value
Here's some great news for those considering engineered wood. The resale market makes zero distinction between engineered hardwood and solid hardwood. So, if you're concerned about the return on investment; don't be.
In fact, if you have engineered wood running throughout your home, you may be able to command a higher price than those who have solid hardwood in just a few key spaces.
5. You can refinish engineered hardwood
Contrary to popular myth, you can refinish engineered wood. As long as you've invested in a high-quality product, it won't be a problem sanding and restaining your floor.
There is a caveat, though.
If you plan on refreshing your floors every few years, hybrid flooring isn't the way to go. You can only refinish veneer so many times before it wears too thin.
Unlike solid wood which can be sanded an average of 7 times, engineered planks become less durable after 2-3 refinishes.
6. Sanded, stained and sealed
Want hardwood floors with a factory finish? Take a look at engineered flooring. Unlike messy site finishes, prefinished boards look consistent out of the box. High-quality finishes will have tonal variations, but no bubbles or blemishes.
Plus, you can walk on them the same day they're installed. And if that's not enough, consider the smell factor. Stain and protective sealers give off toxic odors.
If the factory stains your boards, off-gassing will be minimal. So not only are you saving a figurative headache, you're preventing a literal one.
7. Engineered hardwood is trend-proof
Whether you're planning on staying in your home forever or selling when the market heats up, wood flooring is an excellent investment.
Yes, it can be pricey at first. However, unless you experience fire or flood, it will last for decades. Not only are these floors durable, but they stand the test of time.
8. Compatible with radiant heating
Want wood floors but hate the idea of stepping onto a cold hard surface in the morning? Invest in radiant heating. Not only is it cost-effective and comfortable, but it's also compatible with engineered wood.
While it may be a challenge to find a solid wood that's safe to install over in-floor heating, most engineered products are durable enough to withstand the temperature change.
However, before you dash off to the store, remember there are exceptions to this rule. Always check with the manufacturer before installing engineered wood over radiant systems.